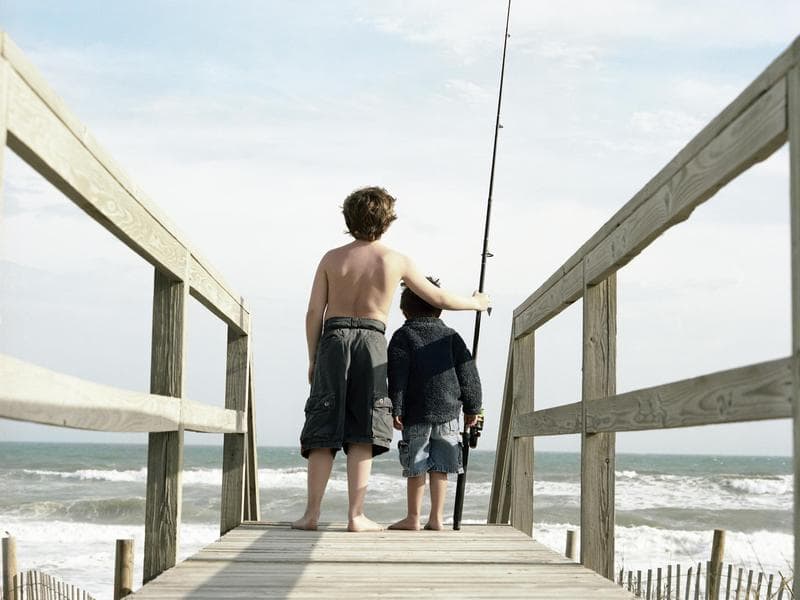 When we talk about children's beaches, we should consider not only the waves and their safety, but also factors such as the services, the activities with which they can have fun, the quality of the water and even what can be done at the destination.
I have tried to take all this into account for this selection of the best children's beaches in America.
Mansa Beach, Punta del Este
Punta del Este, in Uruguay, is one of the most glamorous spas in Latin America, with two beaches, one of them perfect for children. Go with your family to Playa Brava to see the famous Fingers Sculpture and then head to Playa Mansa to enjoy the sea.
This beach is divided into several sectors, some of them practically without waves, thanks to the fact that it is located in a bay. Here children can join a football or volleyball match and enjoy water sports.
Set up near a restaurant and travel between December and March, the hot season of the destination, for children to have fun in the inflatable games in the sea of Splash Aqua Park. Punta del Este forms a conurbated zone with Maldonado.
Praia do Forte, Salvador de Bahia
Playa do Forte, 80 kilometers from the Brazilian city of Salvador de Bahia, is one of the favorite beaches for families. Enjoy with your children the natural pools with warm waters that are formed in the sea, such as Praia do Lord and Praia do Porto.
On this coast, there are a variety of activities that encourage a couple of protection programs with which your children can learn about nature.
Visit the Projeto Tamar visitor center, which has tanks with specimens of the region's marine fauna, including five species of turtles, and the Baleia Jubarte Institute, a humpback whale institute, which offers educational tours at its facilities and whale-watching tours from July to October.
Carolina, Puerto Rico
Choose for your next family vacation the tropical city of Carolina, in Puerto Rico, located just 13 kilometers from Luis Muñoz Marín International Airport (SJU).
Its beach called Balneario de Carolina, in the tourist sector of Isla Verde, is perfect for children, with Blue Flag certification for its water quality and all kinds of services. In it is the Aquasol children's water park, with swimming pool, water jets and even a pirate ship.
Also from Carolina you can plan an excursion to Fajardo's Laguna Grande, which is 40 kilometers from the city and shines in the dark due to the presence of bioluminescent microorganisms.
This is a perfect adventure to arouse curiosity and encourage the care of nature in children over 6 years old.
Bavarian, Punta Cana
The fine white sand and crystal clear turquoise waters of Bavaro have made it one of the most famous beaches in the Dominican Republic and one of the most appreciated in the world. It is a tropical paradise with luxurious resorts, which has all kinds of services for families.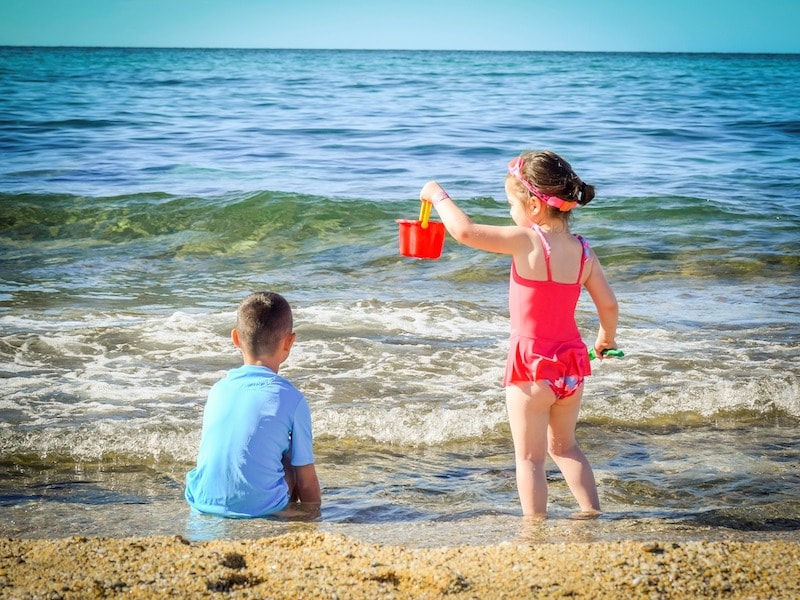 Stay in one of these hotels to enjoy its warm and calm sea, protected by a coral reef. In addition, the good water quality of this beach is recognized by the Blue Flag certification.
Take advantage of your stay in Bávaro and take the children to Manatí Park, where they can swim with dolphins, interact with animals from the region and learn about Taino culture.
Negril, Jamaica
Negril on the western tip of Jamaica, contains a variety of landscapes and a warm climate that children will love.
In the northern part, you'll find the fabulous, expansive 7-mile beach with serene waters and silky sands, perfect for your kids to swim and have fun. Book a hotel in Negril that has a relaxed atmosphere and contains Norman Manley Park, where there are pedal boats and a golf course.
The southern part stands out for its coral cliffs and shallow clear water areas. In this area, visit Rick's Café at dusk to watch the sunset and a diving show.
Pink Sand Beach, Harbour Island
Take your kids to one of the few pink sand beaches in the world, Harbour Island in the Bahamas, which has also been recognized as one of the most beautiful. The sea is calm because the coast is protected by a barrier reef.
Let your children explore the bottom of the sea, as it has low areas and crystal clear, warm waters all year round. Pink Sand Beach stretches more than 5 kilometres along the island's eastern coastline, encompassing Dunmore Town which is its only town.
Akumal, Quintana Roo
In the heart of the Riviera Maya, 90 kilometers from Cancun International Airport, lies the community of Akumal, nestled in an area of bays. Enjoy its magnificent warm climate and calm turquoise waters, characteristic of the Mexican Caribbean.
Akumal is a place that preserves its natural beauty with a nearby reef, which can be reached by swimming from the beach. Put on your fins and snorkel mask to explore its crystalline waters, where you might encounter a sea turtle.
The name of the locality means, in Mayan language, "land of turtles", being a sanctuary of this species for thousands of years. If you come between July and August, your children could participate in the baby turtle release activity organized by several resorts in the area.
North Beach, Isla Mujeres
Located at the northern tip of paradise Isla Mujeres, off the coast of Cancun, this beach has been recognized as one of the most beautiful in Mexico and the world.
Marvel at its year-round tropical climate, its fine white sand, and its warm waters bluer than the sky and shallower. You will be able to walk sea to sea for several meters without the water reaching your shoulders.
Because it is protected from the winds and currents by the island itself, the waves are very calm and there are days when it looks like a swimming pool, which is perfect for children.
Choose between the different restaurants along the coast to spend the day or better yet, stay in a hotel facing this area of the Caribbean Sea and take the opportunity to discover the bohemian atmosphere of the island and stroll through its streets in a golf cart.
Clearwater Beach, Florida
Considered the best beach town in Florida and one of the best beaches in the United States, Clearwater is a destination to have fun with your family. Located on the west coast of the Florida peninsula, Clearwater enjoys the warm, calm waters of the Gulf of Mexico.
Come any time of the year as it has an average of 361 sunny days and an average temperature of 27°C. Its 4 kilometers of white sand, the boardwalk that extends along the entire shore and Pier 60 are some of its main attractions.
Enjoy this fishing pier, its playground and sunset. Conveniently for families, no alcoholic beverages are allowed on this beach.
e
Additionally, in the community is Clearwater Marine Aquarium where the Winter dolphin who lost his tail and became famous for a movie lives. It's a must-see that kids will love!